Focused on establishing results from insight-driven research and close collaboration with all stakeholders, I am
committed to creating a path forward
for your brand, audience, products and channels. Branding is a crucial aspect of any business as it's the visual voice of the company, creating its unique image. A strong Brand Identity results in strong customer loyalty and high credibility. It also instills a firm sense of pride within the employees working for the organization and boost employee morale and loyalty. A brand is so much more than a marketing tool; it's the way the world perceives your company. Below are some of the basic elements I have built my experience on regarding branding and building your identity.
Brand Identity
A well thought out Brand Identity helps to build a strong brand image, defining what people feel, think and know about your brand. The goal is not just to be recognizable, but to be so closely identified with your company's defining characteristics. A Brand Identity encompasses a wide variety of factors such as vision, key equity drivers, culture, purpose, positioning, personality, relationships, tone of voice, code of conduct, channels and materials; generally a combination of aspirational and functional aspects associated with the brand. While it's great when your team thinks your brand looks great, the stakeholders you need to focus on is your target audience. Forming important insights about your audience will greatly infuence your connection with them.
Brand Building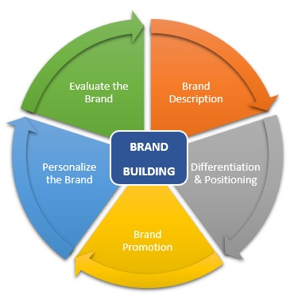 Building any brand requires innovation, creativity, a correct value proposition, constant monitoring and ensuring a good customer experience (or customer journey). These Brand Cycles represent the continuous need of bringing new strategies, events and activities that maintain the brand promise. This makes Brand Building an integral part of business development, involving various strategies and tactics over time.
Clarity, Focus, Consistency, Honesty
One aspect that is often overlooked during branding and consumer feedback processes is consistency. While fine-tuning and constantly evolving is important, the only way consumers remember your company is if they have a clear point of reference. By staying on message and delivering on your promise, even as your specific campaigns change, and keeping consistent branding in design, color choices, language, and tone, your brand will become associated with individual characteristics.